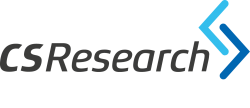 High efficient publication software in the financial sector
This is how your research publications are
faster and more cost-efficiently!

CS Research enables you to achieve noticeable cost reductions and significant increases in efficiency and quality in all phases of the creation, management and distribution of your publications.
Use the challenges of increasing regulation, digitalisation and increased cost pressure as an opportunity to optimise your internal business processes with the help of innovative software solutions - and thus secure competitive advantages!